About VAN LOI FOOD PROCESSING CO., LTD
I-INTRODUCTION

Precursor Company Limited Food Processing Van Loi Van Loi Private Enterprise, established in 1995, specializes in manufacturing business purchase and sale of premium rice, rice 5%, 10% rice, rice 15%, rice 25%, groats, bran ... give the kind of market in both domestic and export ...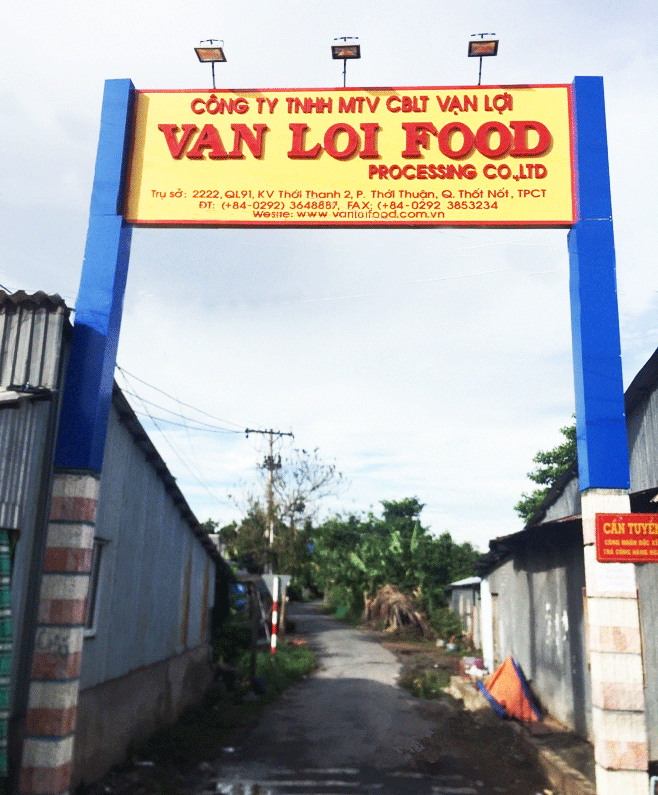 -Company Name:
VAN LOI FOOD PROCESSING ONE MEMBER LIMITED LIABILITY COMPANY

-Address: 2222, Highway 91, Thanh Thoi District 2, P. Thoi Thuan, Thot Not District, HCMC. Tho
-Phone: 02923.852021-02923.648.099 Fax: 02923.853234
-Email:
This email address is being protected from spambots. You need JavaScript enabled to view it.
 - 
This email address is being protected from spambots. You need JavaScript enabled to view it.
- Web server: vanloifood.com.vn
- Director: Ms. promise to truly CHAU
- Equity: 110.5 billion VND (One hundred ten billion, five hundred million)
- Type of business: Private
II-SCALE ORGANIZATION:
    Company Limited Food Processing Van Loi is a type of private enterprise, operating under the Enterprise Law and related regulations. The company is managed directly by the company Director.
Business Structure:
1 / Scope of business:
+ Food Processing (rice milling, rice polish) and food business.
2 / warehousing infrastructure:
The total area of ​​20,000 m2 warehouse, with 08 lines or polished rice, 1,200 tons capacity day and night
3 / HR Organization:
Labor:
Due to the food processing industry needs a lot of work to make the leg work carrying heavy hands so our company has always used 300 workers on labor. Among them are the direct labor wage stability in the work assigned, the remaining indirect labor will receive a package of food products or workload completion.
The labor force is mainly recruited from idle workforce locally and will increase as the production and processing of highly efficient enterprise.
III-REVENUE:
Average revenue: 1.000 billion 
VAN LOI FOOD PROCESSING ONE MEMBER LIMITED LIABILITY COMPANY
Address: 2222, Highway 91, Thoi Thanh 2 District, Thoi Thuan Ward, Thot Not District, Can Tho City
Phone: +84 2923. 852 021 - Fax: +84 2923,853,234
Website: vanloifood.com.vn - Email:
This email address is being protected from spambots. You need JavaScript enabled to view it.
- 
This email address is being protected from spambots. You need JavaScript enabled to view it.
The

image

of

the company:
Corporate offices

 

Corporate Headquarters